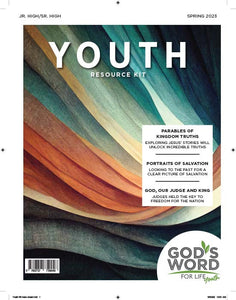 Youth Resource Kit (Digital) Spring 2023
LEGAL NOTICE
This resource is a digital version of God's Word for Life material, referred to as a digital license. It is for use in your local church. One license should be purchased for each person who will be using the file. In accordance with U. S. and international copyright law, digital material may not be shared beyond the local assembly without written permission from Pentecostal Publishing House.
Resource Kit
Special features include social media aids and a supplement for ministering to students with additional needs
Take advantage of the Youth Resource Kit for a robust collection of teaching tools to make each week exciting and engaging.
Contents:
A video for each lesson
A poster for each of the three series
A supplement for adapting each lesson to minister to
students affected by disabilities
Excerpts from Word Aflame Press books for additional
research
Social medial calendar and suggested practices
Graphics package
VIDEO CONTENT!
Each lesson's opening story will be available as a video within the Resource Kit as a way of engaging students through a visual medium. The Resource Kit will also include contextual videos about the biblical passage as well as training videos to help you in the preparation process.