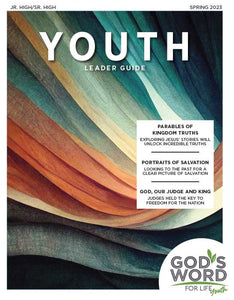 Youth Leader Guide (Digital) Spring 2023
LEGAL NOTICE
This resource is a digital version of God's Word for Life material, referred to as a digital license. It is for use in your local church. One license should be purchased for each person who will be using the file. In accordance with U. S. and international copyright law, digital material may not be shared beyond the local assembly without written permission from Pentecostal Publishing House.
Equip your young people for spiritual growth with aligned Apostolic resources.
Your investment in Apostolic resources reflects your commitment to spiritual growth. You can expand that investment to also empower youth and young adults to become lifelong Apostolic disciples. 
Leader Guide
Everything a teacher needs to lead students in an engaging class
A great lesson comes to life when a teacher feels confident and equipped. Designed intentionally for easy at-a-glance navigation, this Leader Guide provides everything a teacher needs to direct a class through each lesson. The junior and senior high breakout design allows the leader to easily move between activities and instruction to pick the most age-appropriate material for the class along with the split-column design for opening and closing options. An easy-to-follow outline style provides a clear-cut way to teach the Bible lesson and facilitate an engaging class.
Deeper Detail:
GETTING STARTED 
The first page of each lesson provides the overarching information you can use to plan your class. 
PRETEEN TRANSITION 
The idea behind the preteen transition is simple: there will always be an influx of preteens joining the youth class, and these options help make students in transition feel comfortable moving from one classroom dynamic to the next. The Preteen Transition offers a quick activity that often highlights more physical action or activity—something that tends to be more common in children's classrooms. 
WHERE DO WE BEGIN? 
Every lesson will begin with a narrative to reinforce the themes and ideas of the subject matter, grabbing students' attention in a unique way with a new narrative or scenario every week. 
ENGAGE AND RELEASE ACTIVITIES 
God's Word for Life offers two options at the beginning and end of each lesson to ensure teachers have a variety of ways to engage students. These options feature physical activities, object lessons, discussion, learning scenarios, and short stories to add variety as well as reinforce the themes and ideas of the material. 
HIGH AND SR. HIGH BREAKOUTS 
God's Word for Life offers a completely new approach to the curriculum through a single Youth level that features breakout content tailored for different age levels. These Jr. High and Sr. High Breakouts will be displayed in each lesson as a spread in the middle of each lesson and will offer unique activities and discussion prompts. Breakouts will also provide a tailored application of the content discussed in the first half of each lesson. 
DEVOTIONAL TIE-IN 
Each lesson will feature three areas in which teachers will be prompted to ask about or discuss devotional content from both the previous week and the week of devotionals ahead. This will help to reinforce the need for devotional time each day and push students to engage with the at-home Daily Devotional Guide.