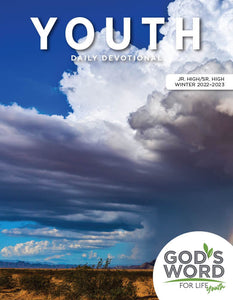 Youth Daily Devotional Guide (Digital) Winter 2023
LEGAL NOTICE
This resource is a digital version of God's Word for Life material, referred to as a digital license. It is for use in your local church. One license should be purchased for each person who will be using the file. In accordance with U. S. and international copyright law, digital material may not be shared beyond the local assembly without written permission from Pentecostal Publishing House.
Daily Devotional Guide

Change the game with a new tool to lead students into Scripture each day of the week. Equip your students for daily study of God's Word.
Guiding your students in becoming lifelong Apostolic disciples is an enormous task to accomplish in just an hour on Sunday or Wednesday. Now you can expand your ministry with a tool that guides students in Bible study every day of the week.
This guide for youth (ages 12-18) provides a daily Bible passage connected to the week's lesson and a corresponding devotion. Each day ends with a final challenge to apply the message of God's Word with both junior high and senior high options.
Make your teaching complete with this student resource by incorporating student feedback into class time. (Prompts are provided in this Leader Guide to help.) Additionally, you can calendar the materials to coincide in one of two ways:
1. Instruct students to complete the accompanying devotional material during the week to reinforce the Bible passages already taught in the lesson at church.
2. Teach one week behind the suggested schedule in this Leader Guide so students interact with the Bible passages for the lesson during the week at home before the lesson. This option would allow for additional discussion since students will have already reviewed lesson content in advance.
In either scenario, this tool equips students to dig into God's Word every day!