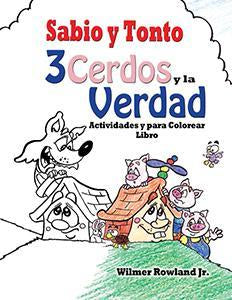 Wise And Silly - 3 Pigs and Truth Coloring & Activity Book (Spanish)
Wise and Silly: 3 Pigs and the Truth is a fun way to introduce children to the Bible's plan for salvation. The delightful characters children have grown to love from the first two books, Wise and Silly, explain how the 3 little pigs can build houses that last by repenting, being baptized in Jesus' name, and receiving the Holy Ghost. Join Wise and Silly for an adventure that imparts valuable truths to kids.

This entire book is a coloring book. Also included are word searches, mazes, and many other activities.