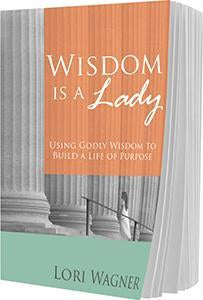 Wisdom is a Lady: Using Godly Wisdom to Build a Life of Purpose
This four-lesson small group series takes participants on a journey that begins before the foundation of the world and ends in the Book of Revelation, encouraging us to build a life of godly wisdom. Inspired by the seven pillars mentioned in Proverbs 9:1, Lori Wagner explores possible interpretations of what these pillars might represent and offers practical application of these elements to our lives. Participants are encouraged to read through the entire Book of Proverbs during the course of the four-week series.

Skillfully written with all believers in mind, Wisdom Is a Lady is a wonderful book that will enrich the lives of believers and encourage growth and discipleship.