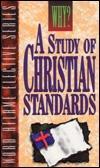 Why? A Study of Christian Standards - AES
A study of why you dress the way you do, talk the way you do, and live the way you. These easy to teach lessons offer questions and suggestions at the conclusion of each chapter.

Chapter topics include: Spirit of Holiness; Setting of Standards; Be Not Conformed; Biblical Teaching Concerning Hair; The Window of the Soul; The Christian Appearance; A Clean Temple; Worldly Amusements; Christian Activities; Sound Speech; Courtship-Love-Marriage; The Occult; and Perfecting Holiness.

Purchase quantities of 12 or more and pay only $7.99 each.