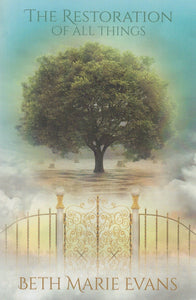 The Restoration of All Things
Fear has many faces. Humanism, which is rooted in unbelief, entered the heart of man in the Garden of Eden. It is a mindset that will attempt to tell us we don't need God. This faithless mindset is what birthed the theory of evolution, an inherently racist theory. We are reminded that we are commanded to love our neighbor as ourself. The mindset that we can be our own "gods" will prevent many from making and keeping their covenant with God. God wants us to put our faith in Him.

The Restoration of All Things gives the reader insight into how embracing a fearful mindset will separate them from God by giving the reader scriptural, historical, and scientific applications that enable God's truth to enlighten the darkness that the enemy, and the world attempts to bring to their mind everyday. Biblical principals enable us to be keepers of the covenant we entered through baptism in His precious name. Each chapter takes the reader progressively through different pitfalls that can come as we attempt to keep covenant with our covenant making and keeping God. We must "buy the truth, and sell it not". All truth is governed by the love of God, which must be shed abroad in our hearts. This love must transcend ethnic and cultural barriers, if we are the fulfill the royal law, and keep God's covenant. A reconciliation of all nations will result in the restoration of all things. God has intended His Gospel to be preached to every nation, and this includes the different nationalities we rub shoulders with everyday.