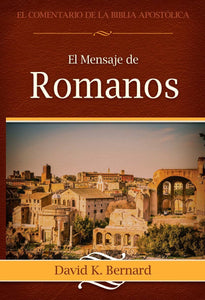 The Message of Romans (Spanish)
A thorough, readable exposition with emphasis on the major doctrinal points. With outlines, definitions of key words, insights from the Greek, and a clearly labeled discussion of each verse.

Este comentario bíblico es un tratamiento exhaustivo y legible de la epístola a los romanos desde una perspectiva Apostólica Pentecostal, con énfasis en los principales puntos doctrinales. Sus explicaciones del verso-por-verso, los contornos, las definiciones de palabras claves, y las penetraciones del griego todos lo hacen un trabajo de referencia valioso y ayuda de estudio de la Biblia.