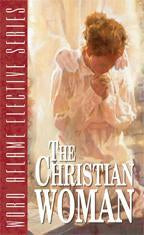 The Christian Woman - AES
This book identifies the Christian woman's role to help her appreciate her worth in the kingdom of God. These easy to teach lessons offer questions and suggestions at the conclusion of each chapter.

Chapter topics include: I Am a Woman; The Divine Institution; Heirs Together; To Mothers with Love; The Working Woman; Personal Relationships; Morality; From Failure to Success; Putting Your Best Face Forward; Your Crowning Glory; Teaching Principles and Standards; Come to My House; and You and Your World.

Purchase quantities of 12 or more and pay only $7.99 each.