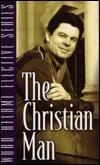 The Christian Man - AES
This book presents the need for Christian men in today's society to live up to God's expectations of them. These easy to teach lessons offer questions and suggestions at the conclusion of each chapter.

Chapter topics include: Leadership-How Far?; Mixing Career and Family; On Being a Man; Spirituality and Christian Service; Remaking Broken Vessels; The Responsibility of Fatherhood; Teaching Principles and Standards to Children; Marriage, I Found a Good Thing; Morality, Take the High Road; Be the Best You Can Be; Here I Stand; The Golden Rule (Relationships); and Bloom Where You Are Planted.

Purchase quantities of 12 or more and pay only $7.99 each.