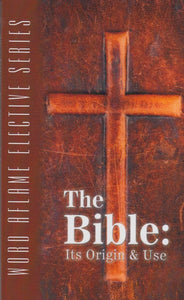 The Bible: Its Origin and Use - AES
You will be amazed as you discover how God's Word was written, how He brought it all together, and how it has been preserved. These easy to teach lessons offer questions and suggestions at the conclusion of each chapter.

Chapter topics include: The Voice of Authority; The Bible-The Word of God; Surveying the Word; The Complete Word; Preserving the Word; Translating the Word; Hiding the Word; Studying the Word; Rightly Dividing the Word; Believing the Word; Proving the Word; Applying the Word; and Doctrine-God's Blueprint for Living.