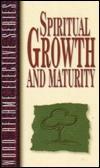 Spiritual Growth and Maturity - AES
Being filled with the Holy Spirit is the beginning of an exciting adventure of life with Him. These easy to teach lessons offer questions and suggestions at the conclusion of each chapter.

Chapter topics include: Attitude Is the Key; Loyalty-The Way of a Godly Life; Teach Us to Pray; The Spectrum of God's Love; Survival Kit for the Depressed; Gifts that Edify; The Ministry-God's Gift to the Church; The Bible-Our Sure Foundation; Praise and Worship; Spiritual Healing for the Church; The Ministering Church; Redeeming the Time; and My Place in My World.

Purchase quantities of 12 or more and pay only $7.99 each.