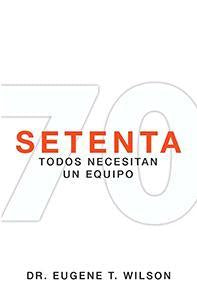 Seventy: Everyone Needs A Team (Spanish)
Many leaders like the concept of having a team. Unfortunately, some church leaders function more as an owner rather than team member. Seventy helps church leaders fulfill their role in building, developing, and working with teams. It offers insights into the challenges of doing ministry as a team and practically addresses how to overcome these challenges. If you care about the church, believe in apostolic ministry—following the apostles' example—and want to experience the Book of Acts in the twenty-first century, this book is for you. Everyone needs a team.

Setenta

A muchos líderes les gusta el concepto de tener un equipo. Desafortunadamente, algunas líderes de la iglesia funcionan más como propietarios en lugar de miembros del equipo. De acuerdo a la Escritura, esto no debería ser. No debemos de enseñorearnos sobre otros; debemos servir otros.

Al cumplir el propósito del ministerio quíntuple—equipando otros para su trabajo en el ministerio—líderes de la iglesia sirven a los que guían. Esto implica no sólo la instrucción y el desarrollo de otros, sino también empoderando a otros. Y, empoderando otros significa líderes de la iglesia deben abrazar el ministerio en equipo.

Setenta ayuda a los líderes de la iglesia a cumplir su papel en formando, desarrollando y trabajando con equipos. Ofrece información de los retos en hacer el ministerio como un equipo y aborda en términos prácticos cómo superar estos desafíos.

Si se preocupa por la iglesia, cree en el ministerio apostólico—siguiendo el ejemplo de los apóstoles—y quiere experimentar el libro de Hechos en el siglo veinte y uno, este libro es para usted. Todos necesitan un equipo.