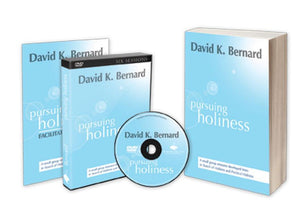 Pursuing Holiness Small Group Kit (Digital Download)
Pursuing Holiness is a new book and six-session small group resource by General Superintendent David K. Bernard developed from In Search of Holiness and Practical Holiness.
The Bible calls followers of Christ to a life of holiness and teaches its necessity (Hebrews 12:14). We heed this call in order to please God, for we belong to Him; to communicate Christ to others; and to benefit ourselves, both now and for eternity. But what does it mean to pursue holiness as Christians in contemporary culture?
Pursuing Holiness provides biblical and practical direction on how to live a holy life in worship to our loving God.
This download includes six video lessons in MP4 format for use in a group setting, a PDF facilitator's guide with discussion questions, and the ebook (epub).