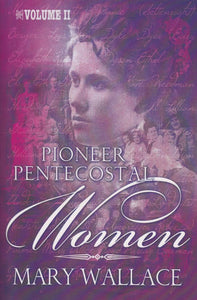 Pioneer Pentecostal Women Volume 2 (eBook)
A faith-building book full of true stories of Pentecostal heroines. You and your family will be blessed and inspired by these awesome women who dedicated all to serve God. Read a story a night during family devotion and pass on your Pentecostal heritage.

Includes stories about the following ladies:
Ada Mae Anderson, Mary Hurt Bowen, Nettie Cagle, Pearl Champion, Vida Donahue Clark, Sophie Haney, Willie Lane Johnson, Bertha Birk Mangun, Ruby Martin, Margaret Savage McDonald, Ethel McGriff McFarland, Malinda Cole Montgomery, Jenny LaRue Rodgers, Clara Mills Rohn, Faye Roe Romine, Lena Calvert Spillman, Mary Adeline Stanley, Eleanor Elsie Starr, Pazia Chay Strepka, Jet Wilson Toole, Marie Farrow Weeks.