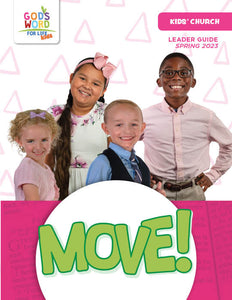 MOVE! Kids Church (Digital) Spring 2023
LEGAL NOTICE
This resource is a digital version of God's Word for Life material, referred to as a digital license. It is for use in your local church. One license should be purchased for each person who will be using the file. In accordance with U. S. and international copyright law, digital material may not be shared beyond the local assembly without written permission from Pentecostal Publishing House.
MOVE! is the perfect solution for churches who minister to a group of children from ages 5–12. It is designed to feature activities and teaching options to appeal to a diverse age range. It can be used in a variety of ways including as a kids' church curriculum if you have a large group format midweek or Sunday for high-energy action with all the kids together. It also is a great tool to minister in a setting where you have a small number of kids in a single class with broad age ranges. Several activity options are provided so you can craft MOVE! to fit your unique needs.
Your purchase of MOVE! includes a Leader Guide with thirteen lessons. Additionally, activity pages, music, and videos are provided digitally at the time of purchase or by following the instructions provided in the front of the MOVE! Leader Guide.