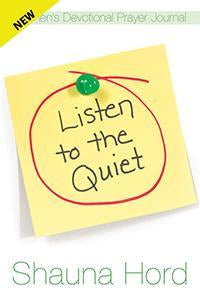 Listen to the Quiet - Women's Devotional Prayer Journal
It is all about relationship. And how better to strengthen a relationship than by communication? and how valuable is listening to any communication? In this book Shauna Hord has brought communication to a new level as she invites us to Listen to the Quiet. Hearing God's voice in the quiet times is a blessed gift.

This six-month devotional journal is designed to focus on one thought per week, allowing you to explore the topic through a different lens every day. Daily scriptures, questions, songs, or quotes help you journal your cherished thoughts as you Listen to the Quiet.