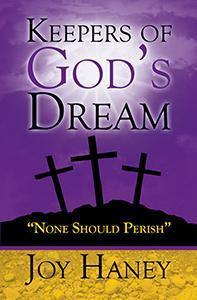 Keepers of God's Dream
In early Morning Prayer on August 30, 2009, the Lord quickened this title to me: KEEPERS OF GOD'S DREAM. It came unexpectedly and totally unplanned. I had just finished another book and was a little weary with the work involved with writing, but I felt an urgent call from heaven. I felt God's heartbeat, and His dream was made alive to me in a great way.
All that morning, 'That none should perish!' kept pulsatingwithin my brain. Over and over I heard it: 'That none should perish!' So with passion and intense focusing, I worked fervently to obey the call to write this book. It seemed as if a holy fire filled my being. As I wrote about Calvary tears gushed from my eyes to where I could hardly see the page. Oh God, help me to be more aware of the lost and those in need of your love and salvation! May His death not be wasted simply because the Keepers of His dream are careless,and apathetic!

Prayerfully I pray that this book will help to awaken something within the corridors of the reader's mind -- the heartbeat of God:The Dream of all dreams: that none should perish!