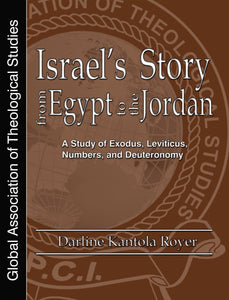 Israel's Story From Egypt to the Jordan - GATS (eBook)
These lessons from the pentateuchal books of Exodus, Leviticus, Numbers, and Deuteronomy focus on God's chosen people, the Israelites. They tell the story of the Israelites' deliverance from bondage in Egypt and their forty-year ourney through the wilderness to the border of the Promised Land. Exodus and Leviticus relate the events of deliverance from Egypt and Israel's first year in the wilderness. This first year focused on Israel receiving God's laws at Mount Sinai. Numbers tells the story of Israel's onward journey to the Promised Land and their delay of thirty-nine years in the wilderness because of their unbelief and rebellion. At the end of Numbers, the Israelites are camped on the Plains of Moab on the border of the Promised Land near the end of their forty years in the wilderness.

Deuteronomy continues Israel's story during Israel's last months in the wilderness as Moses reviews God's laws for the younger generation. As the story of Israel's journey through the wilderness concludes in Deuteronomy, Moses dies and
Joshua steps on the scene as Israel's leader, ready to lead Israel into the Promised Land.