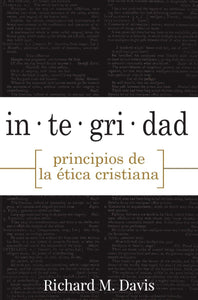 Integrity Principles of Christian Ethics (Spanish)
Vivir con integridad es una de las cualidades más importantes en la vida de cada ministro. Jesucristo modeló la integridad en todo lo que El hizo y dijo. Los principios éticos que demostró constituyen el mejor y más alto estilo de vida que una persona puede vivir. Estos son el fundamento de la ética cristiana. En este libro, el autor explica las bases de la ética cristiana, y luego ilustra cómo podemos aplicar ética para vivir con integridad en todos los ámbitos de nuestra vida.

Living with integrity is one the most important qualities in every minister's life. Jesus Christ modeled integrity in all that He did and said. The ethical principles He demonstrated comprise the highest and best lifestyle a person can live. These are the foundation of Christian ethics. In this book the author explains the basis of Christian ethics, and then illustrates how we can apply those ethics so as to live with integrity in every area of our lives.