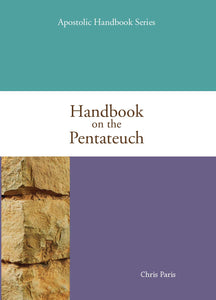 Handbook on the Pentateuch Paperback
The

 

Handbook on the Pentateuch

 

is part of the eight-volume Apostolic Handbook Series. In this volume, Chris Paris surveys the Pentateuch from both literary and theological viewpoints, and introduces us to literary techniques such as type scenes, recurring motifs, and irony. Becoming aware of these techniques produces a reading of the text that deepens our appreciation for the God behind the text. In addition, beyond a perfunctory or ceremonial approach to books such as Leviticus, Numbers, and Deuteronomy, the author helps us to see how ethical principles in these writings apply to our lives today.