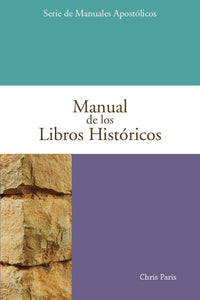 Handbook on the Historical Books (Spanish)
Manual de los Libros Históricos En alguna parte entre un comentario versículo por versículo y la Biblia de Estudio Apostólico, la Serie de Manuales Apostólicos da vida a un texto antiguo lo cual tiene entre dos a cuatro mil años de edad con una aplicación fresca para nuestras vidas y para la iglesia de hoy.  Encontrará perspicacia de la cultura, el idioma, y la historia de Israel, el evangelio de Jesucristo, y la iglesia del primer siglo, todo completamente basado por escritores apostólicos.    

En este tomo, Chris Paris examina los doce libros que a menudo clasificamos como los Libros Históricos.  De manera concisa trata con temas globales en estos libros, incluyendo la conquista de la tierra, la restauración del clamor en Israel, y la construcción, destrucción, y reconstrucción del Templo.  A demás, usa su conocimiento del hebreo bíblico para expandir nuestro entendimiento de varias palabras hebreas.  Y provee nuevas ideas para enseñar y predicar de pasajes seleccionados de las Escrituras de estos libros.

The Handbook on the Historical Books is the first of a projected eight volumes in the brand new Apostolic Handbook Series. Covering the span of books from Joshua through Esther, Chris Paris has written a highly accessible and thoroughly researched volume with new insight and practical application for us today. Your understanding of the Historical Books will be greatly enriched by reading this book.