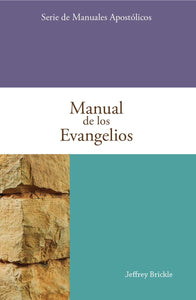 Handbook on the Gospels (Spanish)
 En algún lugar entre un comentario de versículo por versículo y Apostolic Study Bible, la Serie de Manuales Apostólicos da vida a un texto de dos a cuatro mil años con una nueva aplicación a nuestras vidas y a la iglesia de hoy. Encontrará ideas sobre la cultura, el idioma y la historia de Israel, el evangelio de Jesucristo y la iglesia del primer siglo, todo fundamentado por escritores apostólicos. Cada uno de los cuatro Evangelios ofrece una visión única de la persona y el trabajo de Jesucristo. En este volumen, el autor nos lleva de viaje de múltiples expediciones por el mundo mediterráneo antiguo y nos presenta a un elenco de \ personajes que fueron fundamentales para preservar la historia de Jesús. Aunque el tono es coloquial, el estudio que apoya la conversación es de gran solidez.

The Handbook on the Gospels is part of the eight-volume Apostolic Handbook Series. The author takes us on a journey of multiple expeditions throughout the ancient Mediterranean world and introduces us to a cast of characters who were instrumental in preserving the story of Jesus. Although the tone is conversational, the scholarship underlying the conversation is robust.