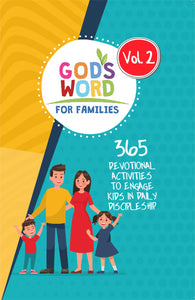 God's Word for Families Volume 2 (Digital)
LEGAL NOTICE
This resource is a digital version of God's Word for Life material, referred to as a digital license. It is for use in your local church. One license should be purchased for each person who will be using the file. In accordance with U. S. and international copyright law, digital material may not be shared beyond the local assembly without written permission from Pentecostal Publishing House.
"Train up a child in the way he should go: and when he is old, he will not depart from it." - Proverbs 22:6
God's Word for Families is a wholly Apostolic discipleship tool designed to help your entire family grow in relationship with God and each other. By exploring a biblical passage from Sunday to Saturday, daily ten-minute activities use a variety of teaching styles to engage family members to hear God's voice. Tap in to God's plan for your family by committing to daily discipleship with God's Word for Families. 
Weekly Overview:
Sunday – Introduction (an age-appropriate version of the week's Bible passage)
Monday – "Why?" (activities that show the purpose behind the Bible study)
Tuesday – Analytic Learning ("Fun Facts!" and "Did You Know?" activities to dig deeper into Scripture)
Wednesdays – Worship (a featured lyric video and other Apostolic songs)
Thursday – Real-life Application (a present-day story to illustrate the Bible lesson)
Friday – Discussion (questions for parents and kids to ask each other about our faith)
Saturday – Family Project (an activity for the family to do to put our faith in action)