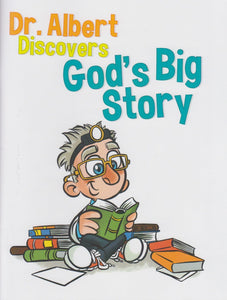 Dr. Albert Discovers God's Big Story
This coloring and activity book stars the quirky but loveable Dr. Albert, a scientist who builds a time machine, and his adventures as he discovers God's big story. With fun games and activities, children join Dr. Albert in going back in time to study Creation, the Fall, the birth of the Savior, the Resurrection, and the Day of Pentecost. Together they'll discover these truths on amazing adventures:



God made me.
God loves me.
God came to save me.
God makes me free.
God wants to fill me with His Spirit.



Kids can read his adventures and do the activities, which include coloring, dot-to-dot puzzles, mazes, a word search, tracing, and other fun activities. They can use this simple and fun Bible study tool to share Dr. Albert's adventures with friends and family and explain God's big story.