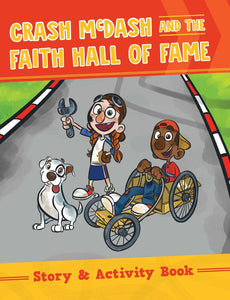 Crash McDash and the Faith Hall of Fame Story Activity Book
Crash McDash is a big kid in the neighborhood who likes to race and win! Her backyard is home to all the neighborhood kids who want to build race cars and learn how to win the Pushcart Derby. The best part is when they get together and study about some real-life heroes from the Faith Hall of Fame in Hebrews 11. Join Crash and her mechanic buddy Scooter as they study how five heroes were heroes because God gave them power to win.

Kids will enjoy this 48 page story and activity book as they read what Crash has to say about our greatest hero, and then do the activities, which include coloring, dot-to-dot puzzles, mazes, a word search, tracing, and other fun activities.