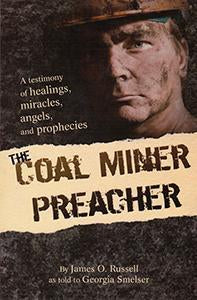 Coal Miner Preacher (eBook)
James Oatis Russell, son of a coal miner Baptist minister, was born in the small town of Illsley in western Kentucky in 1919.
As a teenager, Jimmy took up his father's trade and became a coal miner. Later, he again followed his father by becoming a minister. By this time his father had received a Pentecostal experience and was pastoring a Holiness church.
Jimmy received his personal Pentecost at the age of twelve, and God often used him during those young years to pray for the sick and to minister to people.
After marriage to Jo Alexander, three children—Jerry, Judy, and Susan—were added to the family.
Jimmy Russell accepted his call to the ministry under pressing circumstances. He pastored in Princeton, Kentucky, for a short time, evangelized, and then built a thriving church in Madisonville, where the greater part of his ministry was focused.
This book is a compilation of many of the healings, miracles, angel visitations, and prophecies that transpired in his ministry.