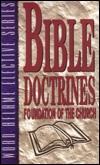 Bible Doctrines: Foundation of the Church - AES
The teachings of Jesus Christ and His apostles and prophets have become the foundation upon which the church rests. These easy to teach lessons offer questions and suggestions at the conclusion of each chapter.

Chapter topics include: The Apostolic Ministry; The Bible, God's Inspired Word; The One True God; Freedom from Sin; The Conquest of Death; Repentance; Water Baptism; The Baptism of the Holy Ghost; Spiritual Gifts in the Church; Holiness; Divine Healing; The Second Coming of Jesus Christ; and The Judgment to Come.