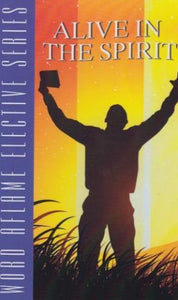 Alive in the Spirit - AES
The Christian's life begins with the infilling of the Holy Spirit and continues as the believer grows, ministers, and thrives--alive in the Spirit! This book addresses many aspects of this exciting and productive life in the Spirit. These easy to teach lessons offer questions and suggestions at the conclusion of each chapter.

Chapter topics include: Living in the Spirit; Spiritual Discipline; Living the Word of God; Fruit Bearing; Spiritual Reproduction; Alive in Worship; Submission to Authority; Loving God and Our Neighbor; Humility Personified; Living Faith; Living with Integrity; More Than Money; and Patience and Contentment.

Purchase quantities of 12 or more and pay only $7.99 each.