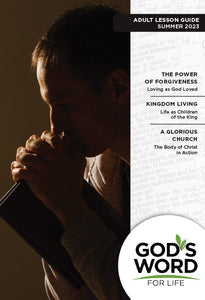 Adult Lesson Guide Regular Print (Digital) Summer 2023
LEGAL NOTICE
This resource is a digital version of God's Word for Life material, referred to as a digital license. It is for use in your local church. One license should be purchased for each person who will be using the file. In accordance with U. S. and international copyright law, digital material may not be shared beyond the local assembly without written permission from Pentecostal Publishing House.
 Lesson Guide
The Lesson Guide is a treasury of Apostolic insight into Scripture and an indispensable study and teaching tool. The hardback format includes the fifty-two adult lessons for the entire year. It is also available as a paperback quarterly with the thirteen lessons for each quarter and easily slides in and out of your Bible for convenient transport to church.
Deeper Detail:
GETTING STARTED 
The first page of each lesson gives pertinent information that will be foundational for the teaching of the lesson. Here you will find the Lesson Title, the Lesson Big Idea, the Truth About God, and both the Focus Verses and Lesson Text. In addition, a callout box will either give an overview of the series (the first lesson of each series contains this information) or will connect students with their daily devotional activity from the previous week. 
TEACHING OUTLINE 
The SG (Small Group) Teaching Outline is the lesson content in outline form. Each lesson main point is listed along with suggested discussion questions. Although the outline can be used to teach the lesson in a large group setting, the "SG" indicates the content is also designed to be used in a Small Group. Because of this, an icebreaker question has been provided to help jumpstart interaction in the Small Group meeting. A companion piece for Small Group participants can be found on the last page of each week of material in the student Daily Devotional Guide. 
LESSON CONNECTION 
Most often the Lesson Connection will be a story or illustration designed to give students a glimpse of the overall theme of the lesson. Since stories often appeal to the heart and emotions, this portion of the lesson seeks to engage the heart so the mind is open to receive the truth that will be taught. 
BIBLE COMMENTARY 
The Bible Commentary is a manuscript of the entire lesson. The lessons are written by various Apostolic authors who not only skillfully explain the truths of Scripture but also share ways in which we can apply these truths to our lives. The Bible Commentary contains discussion questions to stimulate thought and media callouts (videos and images) to connect with students of all learning styles. 
INTERNALIZING THE MESSAGE 
The end of each lesson will offer a summary of the lesson's content. At times specific actions will be suggested to apply the lesson content. The goal of each lesson is not just to share biblical information, but to show what must be done with the information and challenge students to apply God's Word to their lives.