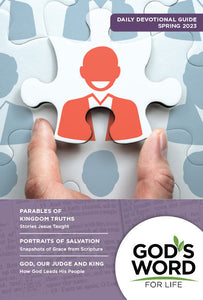 Adult Daily Devotional Guide (Digital) Spring 2023
LEGAL NOTICE
This resource is a digital version of God's Word for Life material, referred to as a digital license. It is for use in your local church. One license should be purchased for each person who will be using the file. In accordance with U. S. and international copyright law, digital material may not be shared beyond the local assembly without written permission from Pentecostal Publishing House.

Daily Devotional Guide
Becoming lifelong Apostolic disciples takes more investment than just an hour on Sunday or Wednesday. Now you can dig into God's Word every day. This guide gives an overview of the biblical text presented in the Lesson Guide each week and is then divided into smaller portions for daily study. Each day offers brief insight about the Bible passage, a devotion that challenges readers to apply Scripture, and then space to reflect and pray over the principles presented. 
Deeper Detail:
GETTING STARTED
The first page of each week's material will help you to become familiar with the Lesson Big Idea, Truth about God, Lesson Text, and Focus Verse to be used in your Sunday school class or small group setting. 
TEACHING OUTLINE 
The SG (Small Group) Teaching Outline is the lesson content in outline form. Each lesson main point is listed along with suggested discussion questions. This outline can be used to follow along with the lesson in both large and small group settings. 
BIBLICAL OVERVIEW
Page 2 will give you a "high level" Biblical Overview of the Lesson Text. The content will explore the text, its background, and any other pertinent information to help you better understand the setting, purpose, and message of the text. 
DAILY DEVOTION
Pages 3-7 of each week will guide you through your week of personal devotion and study. You will be encouraged to explore a portion of the text with the help of a section of Biblical Insight on that part of the text. Next is a Daily Devotion to read and a prompt to reflect and pray about the principles presented.