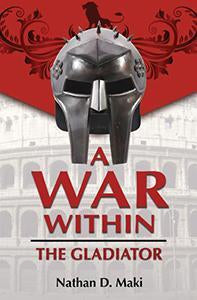 A War Within: The Gladiator
A War Within is Christian historical fiction based in Ancient Rome during the tumultuous 'Year of the Five Emperors,' AD 196. It was a time of vicious persecution of Christians and brutal civil war.
When tragedy tears his family apart, Antonius is left doubting his faith and seeking vengeance. His quest for retribution will take him from the sands of the Coliseum to the distant battlefields of the Roman Empire, before bringing him back to Rome. There he must decide where his allegiance lies-with his emperor or with his faith, family, and the woman he loves. Will he choose to save his life or give it?
Readers of all ages will thrill to the action, adventure, and romance that fill these pages. But the real war is within. If God loves him, how could this happen? And how could God demand that he forgive?