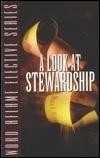 A Look At Stewardship - AES
This study covers such subjects as tithing, greed, ownership, possession, and proportionate giving, this book can guide the reader into better stewardship of God's abundant blessings. These easy to teach lessons offer questions and suggestions at the conclusion of each chapter.

Chapter topics include: The Requirements of Stewardship; The Origin of Possessions; Man's Possessions and God; Man's Possessions and Physical Needs; The Separated Portion; Worship and Stewardship; The Danger of Avarice; Talents, Time, and Material Possessions; The Motives for Stewardship; Stewardship and the Great Commission; Man's Accountability to God; Proportionate Giving; and Tithing, An Approved Principle.

Purchase quantities of 12 or more and pay only $7.99 each.