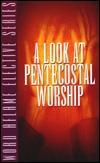 A Look At Pentecostal Worship - AES
This book covers such aspects of worship as music, giving, prayer, praise, the Word of God, and relationships. This study can help to develop a person's understanding of the full extent of worship as the believer's heartfelt expression toward God. These easy to teach lessons offer questions and suggestions at the conclusion of each chapter.

Chapter topics include: Purpose of Worship; Preparation for Worship; Prayer in Worship; Praise in Worship ; Giving in Worship; Music in Worship; Revelation of Worship; Gifts of the Spirit; The Word in Worship; Administration of Ordinances; Relationships in Worship; The Presence of God; and Worship through Witnessing.